If you're looking for inspiration for great poses during your wedding photos, then look no further. Wedding photos need to be amazing enough to last a lifetime and be displayed with admiration and joy. Here are some ideas to give your photographer, although he or she will no doubt be well-prepared with plenty of superb wedding poses:
Blind Folded Groom
A popular choice for the first photo follows the tradition of the groom not seeing the bride in her finery until they exchange vows. If it can be staged properly, having the bride behind the groom with her hands playfully covering his eyes is a fun way to start the day of photography. Or for an even more playful 'First Look' photo, have both bride and groom blindfolded.
First Dance
This is a must in any wedding photography collection. Getting the couple's first dance is an important symbolic moment of the whole day. If the photographer is not staying for the whole day, get a shot of you both practicing your first dance moves during the period of the photo shoot. To make it look intimate and private, a great idea is to get the shot from a balcony above the couple.
The Hand Kiss
This is a sweet, romantic and timeless gesture of loyalty, love, and respect. It makes for a really cute shot to include in your album too.
For a casual, unposed shot, being seated next to each other and chatting makes for a relaxed and natural shot. If the groom stretches his feet out and the bride leans in towards him, it should capture an intimate moment where your eyes meet, and the photographer can capture that precious moment.
A Walk
Movement in a photo can lend a relaxed, natural feel as well.  If you want your wedding to take place in lovely surroundings with a country feel with options of staying the night in beautifully decorated rooms then you could look for a Hotel Wedding Venue in Gloucester. Take a look at packages at  hatton-court.co.uk/gloucester-cotswolds-weddings or other such sites.  Shots of you walking together hand in hand from a distance around the beautiful landscapes of your chosen venue will look incredibly romantic.
Weather Shots
If the weather turns out to be rather inclement on your big day, don't be deterred but use it to your advantage. Encourage your photographer to capture some fun weather-related shots such as the groom shielding the bride with his jacket or an umbrella!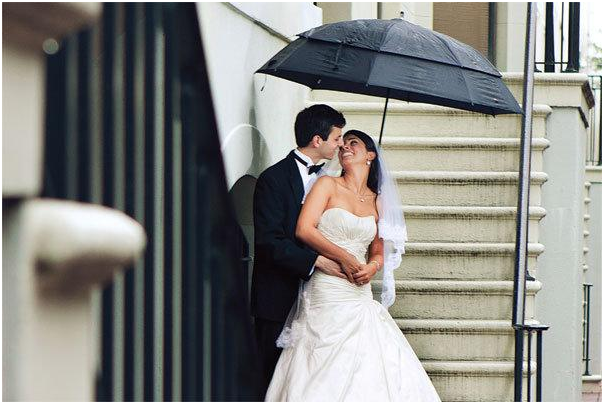 Photo Frame Prop
Holding a frame together and having numerous shots from different angles is a fun and unique way to capture your special day.
The Kiss
Towards the end of the shoot, when everyone is warmed up and relaxed, the all-important shot is the couple's kiss. It can be done as a light-hearted giggle or an artistic and seriously romantic affair. For an air of intimacy and mystery, why not cover yourselves with the bride's veil?