The scrum is one of the most identifiable set-piece moves in the game of rugby. It is an opportunity for a team to demonstrate the physical strength of their pack and to win useful possession of the ball. In its simplest form, the scrum is a physical contest between eight of the fifteen players on the team, locking together and pushing against each other to win the ball.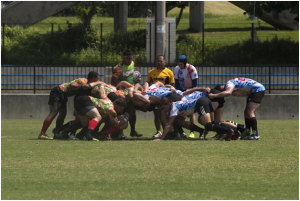 The front row is made up of the Hooker and two Props. The two Locks make up the next row, followed by two Flankers and finally the Number 8. They bind their arms across each other, interlocking heads.
Risk
There is a considerable risk of injury, so officials do pay a lot of attention to the scrum to ensure players are binding properly, no one is pulling the scrum down and risks are minimized.
Play
A scrum is set on the referee's signal once he spots a minor infringement. The aim is to get play underway again as soon as possible following a knock-on or forward pass or similar reason for a stoppage.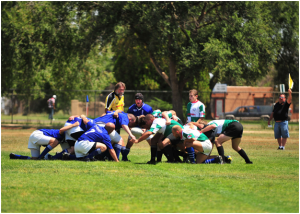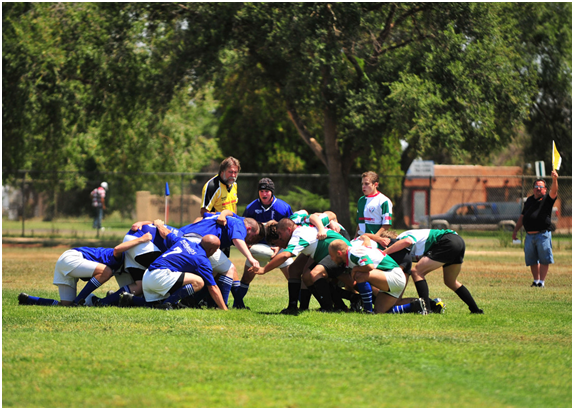 Once the scrum is set, a ninth player – the scrum-half – feeds the ball into the middle of the scrum between the two front rows and the 'battle' begins, with both sides trying to win the ball using their feet and pushing it towards the back of the scrum, where it can be picked up and passed out to the backs. At this point, the forwards may break up the scrum and rejoin the run of play.
Other Rules
The center of the scrum as it is set must fall at least five meters away from the goal and touch lines yet as close to the identified infringement as possible, and the referee will mark the central spot with his foot to show the two sides where to start. He then gives the instruction, "Crouch. Touch. Engage".
For more information on forming a scrum, see the article on the BBC website and incorporate what you have learned into rugby training drills to put it into practice. Some of the best rugby training drills are found online at Sportplan.
Don't forget, though, that rules are updated regularly, so be sure to keep up with the season's newest laws and referees' likely interpretation of them.