Opening a new bar is a stressful time. There is a lot of work to be done before you are ready, and that means you probably need a plan to help you manage it. One important aspect to consider is what equipment you need to get your bar running smoothly. Here are a few of the most essential items to have ready.
Furniture:

Calculate how many chairs and tables you need to fill your space without overcrowding. The bar will need coolers for bottled drinks, as well as storage for herbs, fruit, and other garnishes. A sink near the bar will make cleaning glasses easier, as long as you have appropriate cleaning supplies (remember you need bathroom cleaning equipment as well).
Bartending:

Your bartending equipment will need to include glasses for every type of drink. This includes pint glasses, wine glasses, shot glasses, champagne glasses, mixing glasses, highball glasses, martini glasses, brandy snifters, and specialty glasses.
You will also need accessories to go with the glasses, particularly when making cocktails. Bottle and can openers, shakers, spoons, cutting boards, ice cube trays (although an ice-maker is more efficient), stirrers, and straws are all important.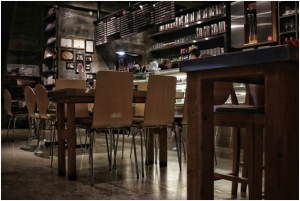 Alcoholic beverages:

Start with your most standard alcoholic beverages: whiskey, bourbon, gin, vodka, rum, and tequila. Add your liqueurs, including amaretto, Irish cream liqueur, coffee liqueur, orange liqueur, and vermouth. If you are serving beer, you will need kegs and taps.
Non-alcoholic mixers

These will include fruit juices such as orange, cranberry, and tomato, as well as lemonade, cola, and other fizzy mixers. You may also want milk, cream, Tabasco and Worcestershire sauce. Post-mix juices such as Empire UK post mix juices may also be useful.

Garnishes:

Fruit garnishes can include lemon, lime, and cherry. You may also want salt, sugar, mint and whipped cream.

Kitchen:

If you want to serve food, that means kitchen equipment such as ovens and grills, as well as increased refrigeration space. You will also need crockery and cutlery to help serve your food. Advice on serving food and running a kitchen is available alongside other guidance on the costs of opening a bar.

Technology:

Modern tablets can help keep track of stock and customer transactions without taking up space like a traditional till or desktop computer. Utilizing the most up to date technology can make your bar more efficient.